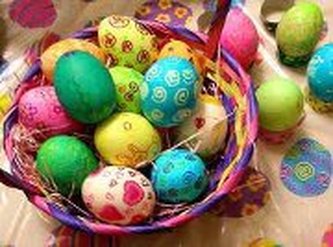 SLO Creek Farms invites you to:
Egg Coloring & Easter Egg Hunt Party March 31, 2013
Sunday morning, from 10:00am to 12:00pm
It's fun for all the little ones!!!
Last year we had 25 people RSVP and had over 300 participants. It was more than we expected, but we had so much fun with all the kids. This event is put on by the SLO Creek Farms Family and we are looking forward to spending Easter with all of you.
*Easter Egg Coloring Party: 10:00 a.m. to 11:00 am
Bring a dozen hard-boiled eggs and coloring supplies.
All Ages Welcome
$3 per Participant
*Easter Egg Hunt: 11:00am to 11:30am
Bring your own basket to collect eggs in
Ages 3-12: $5 per Participant
Kids 2 & under: FREE!
Note: we will be hiding eggs and candy in different divided sections of the orchard for the following age categories:
11:00am Ages 2 & under
11:10am Ages 3-5
11:20am Ages 6-8
11:30am Ages 9-12
*Both Contests are held between 11:30am-12:00pm & are for kids 12 and under
*Egg Coloring Contest - Prizes awarded to the most:
1. Unique egg
2. Beautiful egg
3. Ugly duckling egg
*Costume contest:- Prizes awarded to:
1. Most creative
2. Cutest bunny
3. Best homemade costume
Face Painting
$3 small
$5 medium
$8 whole face
Remember to bring your cameras to take your picture with the Easter Bunny!
Note:Adults may bring extra plastic eggs or coloring supplies, if they would like to donate. Please drop off March 15-30st, 2013 at the SLO Creek Farms Garden Area Donation Box.
~Egg hiding starts Sunday at 9:00am to 9:30am if you would like to help hide the eggs with us.
*** Volunteers are welcome. Call (702)245-3135 or message SLO Creek Farms if you would like to be a Easter Volunteer.
~Drinks and snacks will available for purchase at the snack bar.
*Canned Food Donations always accepted to help the hungry.
Happy Easter Everybody!!!
www.slocreekfarms.com