SLO Creek Farms Organic Community Garden Est. 2012

Interested in renting a garden plot? Follow the 3 steps below:

1. Please download, print & read the SLO Creek Farms~Organic Community Garden Rules, Regulations & Official Application Form.

slo_creek_farms~organic_community_garden_rules___regulations_2017.pdf
File Size:
140 kb
File Type:
pdf
Download File
---
2. Please fill out this online pre-registration form if you are interested in renting a garden plot. 3. After sending the online pre-registration form (and are approved) send the official application form, along with application & plot rental fee (by April 1) to:
Mail SLO Creek Farms, 6455 Monte Rd,SLO,Ca,93401. (Make check payable to: SLO Creek Farms)
or
---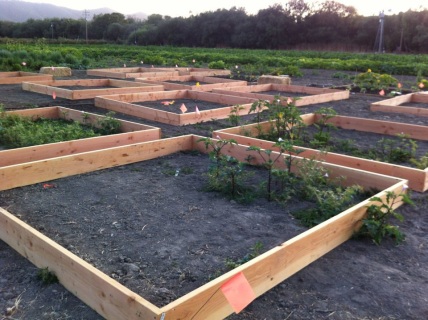 Garden Plot Rental Spring Season
Have you always wanted to plant a garden, but just did not have the yard space or didn't want to raise your water bill? Well, here is your chance!! We have garden plot rentals available for the 2017 season, April through December or first freeze.

Comes with a 10 by 10 garden box, and access to free water.
$100 for the year 2017, April 1 through December 1 or first freeze. $25 New Member fee.

Dig your plot 1ft under, so you can use SLO Creek Farms amazing soil. About $55.00 to 68.00 to gopher proof your plot, plus $25 plot clean up fee, then you can start planting!

Due to the limited number of garden plots at SLO Creek Farms~Organic Community Garden, only 1 plot is available per gardener.

---
SLO Creek Farms~Organic Community Garden Plot Map
---
SLO Creek Farms~Organic Community Garden
Rules,Regulations & Official Application Form:

Plant Organic

Be kind to one another

Lend a helping hand to your neighbor

Bring the sunshine to the garden with your happy smiling face
Plant a seed and watch it grow
Enjoy the journey
Grow with Love
---