SLO Creek Farms~GreenLove

All GreenLove products can be purchased at the local Farmers Markets. Check
http://slocreekfarms.com/farmers-markets-locations.html
for local Farmers Market locations. Call (702)245-3135 if you have any questions, need to place a special order, or would like to make an appointment to pick up at the farm. We will contact you after you have placed your order to ensure local pick up or online shipment. Shipping is $15 per order. Happy GreenLove everybody!
---
GreenLove~Homemade Raw Granola


This granola tastes amazing! It is sweetened with grade B maple syrup. All the nuts are soaked for a couple hours in water to activate live enzymes. Granola is dehydrated at a low setting and is a raw food product containing the max amount of nutrition in every bite. Contains various nuts, coconut, apples, raisons, & grade B maple syrup. Great with yogurt or on top of your GreenLove Smoothie!
8oz

---
GreenLove~Cheesy Kale Chips


Need your greens on the go? GreenLove~Cheesy Kale Chips are the perfect way to eat your greens and love it! They give you the vitality and energy you need for your day. We make them from fresh kale topped with a sauce consisting of red pepper, raw cashews, lemon & sea salt, giving a great illusion of that cheesy taste. Kale chips are a dehydrated raw food product which gives you the max amount of nutrients and enzymes in every bite. Guilt free, skip the salad..I love kale, chips.
2oz

---
GreenLove~Super Berry Raw Trail Mix


This Raw Super Berry Trail Mix is packed with energizing exotic berries and various nutritious nuts., with a touch of cacao nibs(raw chocolate) to give those chocolate cravings a fix. The nuts are soaked and sprouted, then dehydrated for 12 hours at a low level. This is probably the most energizing trail mix you will ever enjoy!

---
---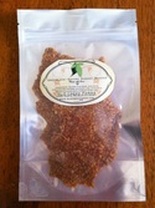 GreenLove~Rosemary Flax Crackers
Rosemary Flax Crackers are a perfect way to get a little pick-me-up on the go. They are rich in potassium, antioxidants, vitamin C and Omega 3 fatty acids. They are dehydrated and make a perfect match for a homemade guacamole,hummus, or simply as a snack on their own.
2 oz
---
~Made with Love~