Media and News Articles
California Rare Fruit Growers teaches how to prune.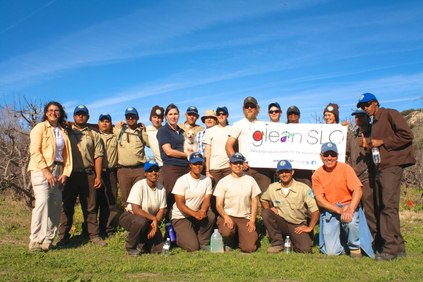 What a great afternoon in the apple orchard!
Thanks to Larry Hollis and Art DeKleine from the California Rare Fruit Growers (CRFG) for teaching us how to prune apple trees yesterday, and to SLO Creek Farms for giving us the opportunity!
Pictured here are the wonderful volunteers from the California Conservation Corps, with their Residential Advisor, Meggan Gehring, along with Food Bank Board Member Stephanie Teaford. The other volunteers from CRFG not pictured here but who we'd like to thank are Peggy, Carmela, Carmen and Pat.
We look forward to returning to the orchard this fall and to see the trees loaded with fruit! — at
SLO Creek Farms
.
---
---
101 Reasons to Exit Highway
with Martin Resorts 2012
Reason (13) "Munch a Fresh, Savory Apple Crisp at the SLO Creek Farm Stand. During the fall season the San Luis Obispo Creek Farm opens their 40-acre orchard for u-pick. Exit the 101 at San Luis Bay Drive and look east for the orchard--just off the freeway. The tent in front of the orchard sometimes features an unforgettable apple crisp. www.SloCreekFarms.com"
Cont...
---
Cal Poly's Real Food Collaborative gave CCBioneers/Central Coast Ag Network Food & Farming Celebration participants an experience they will never forget Saturday night, Oct. 20 at the Green Chef Cook-off event. Fifteen teams of student chefs vied for cash prizes as they brought out dish after dish to the hungry crowd from the Monday Club kitchen. Judging honors were performed by Linnaea Phillips, former owner of Linnaea's Café, Robin Burnside, former kitchen manager of Esalen and author of
The Homesteader's Kitchen: Recipes from Farm to Table
, and two volunteers from the audience, Michael Sullivan and Serena Carlin. The winner in the appetizer category was Derek Sisting, with his eggplant bruschetta. The winning entrée, a tomato-veggie tart, was created by Natalie Darr and Michael Crivello. And taking the honor for best dessert were Michelle Smolarski and Kelsey Tigh with their apple-pumpkin seed cheesecake. The green chefs did not know what their surprise ingredient was until the day before the competition, when the appetizer chefs received boxes of bunching onions and bush beans, the entrée chefs were given tomatoes, and the dessert chefs received crates of apples. The chefs were judged on taste, creativity with the surprise ingredient and sustainability in their cooking practices. Thanks go to surprise ingredient donors Cal Poly Organic Farm and SLO Apple Creek Farm.
Cont...
---
Meet the Farmers Market Vendor: By Violet Cavanaugh
SLO Creek Farms, October 2012

6455 Monte Rd. SLO, CA 93401 (702) 245-3135 www.slocreekfarms.com
SLO Creek Farms is a family owned and locally grown 40 acre apple farm. Their orchard is 16 years old, and has been pesticide free for the last three years. There are currently 12 local farmers markets that sell SLO Creek Farms apples, cider, apple pie, cookies, ap- ple chips and sauce, along with GreenLove Smoothies and raw food products to help promote health and well-being with in the com- munity. A little bit of healthy indulgence. At the farm they have a U-Pick open for the public to enjoy 7 days a week from 11:00am to 5:00 pm including picking apples, pumpkins, flowers, vegetables & herbs. They also have yoga, stretch class, hoop dance fitness, free outdoor movie night, an organic community garden and more! SLO Creek Farms believe in keeping the produce fresh and local, which is why they bring their fresh pesticide-free apples to the Pismo Beach Farmers Market every Wednesday from 3-6 pm for the local community to enjoy! Come stop by their booth and ask to sample their famous "snow white" apple. "An apple a day."
Pismo Beach Farmers Market's NEW fall hours are 3-6 pm. Join us and enjoy live music, great food, fresh produce, raw and pre- pared foods and green drinks. Local businesses are encouraged to pick up applications to highlight their products on the promenade.
Cont...
---
California Student Sustainability Coalition Spring 2012 Convergence

From April 27th – April 29th, over 400 students from across the state of California gathered at Cal Poly San Luis Obispo for a weekend of workshops, speakers, live music, and camping. The theme of this convergence was building a resoNATION – inspiring students to join together to make a positive, resounding impact in the world. We all have unique perspectives, skills, and experiences, and the

California Student Sustainability Coalition

(CSSC) is about bringing those individual resonations into one HUGE resoNATION.

And that is what we did. Most of the

30 workshops offered

were student-led, and topics varied from "Transforming White Privilege" to "Agro Eco Coffee" to "Ending Corporate Personhood." Larry Lansburgh, producer of the film "Dream People of the Amazon," delivered a thought-provoking and inspirational keynote address about the power of community and perseverance against all odds. After a long day of workshops (and delicious, vegan, sustainable food) we all danced our hearts out to the tunes of The Willows, who played an energizing set for us at SLO Creek Farms.

The CSSC is built on the principle that sustainability has three intertwined threads: ecological, economic, and social. The convergence was a time to explore all of those threads both intellectually and experientially, by opening our minds and our hearts to one another.

Cont...
---
San Luis Obispo Country Magazine Winter 2011-2012
SLO Creek Farms Invites GleanSLO for the Harvest
For a second year, Robyn and Blythe Gable, owners of SLO Creek Farms, invited GleanSLO to harvest a portion of their 40-acre apple orchard near San Luis Obispo. The remainder of their orchard is a U-Pick operation.
"We're trying to arrange as many gleans at the orchard as possible and partner with different agencies before the apples drop," says Eicher at an October glean. On this sunny day, the glean crew includes freshmen engineering students from Cal Poly, members of Santa Maria's Backyard Bounty (a reciprocal invitation for northern Santa Barbara's Food Bank) and individual volunteers. The Grizzly Academy and various other groups also have worked in the orchard.
The morning begins with volunteer orientation for the two-to-three-hour glean. Caroline Ginsberg, an AmeriCorp worker with SLO Food Bank who coordinates volunteers and activities for GleanSLO, provides training and safety instructions specific to this location. The Gables request
no ladders, knives or pruners be used, and the GleanSLO volunteers honor their request.
Cont...
---
Go Green Nation Growing Green Communities
Local food makes news in SLOPosted by Christine, December 26, 2011
Chew on this
Locals are finding ways to move away from food created by corporations
BY KATHY JOHNSTON
"There's definitely a shift away from corporate food," said Caroline Ginsberg, on a break from picking ripe red apples from an orchard at SLO Creek Farms on a sunny afternoon earlier this month. She's the volunteer coordinator for GleanSLO, a local nonprofit whose volunteers harvest thousands of pounds of excess local crops for distribution to hungry families by the SLO County Foodbank.
Cont...
---
In December's edition of Keeping It Fresh, Charles interviews Carl Hansen, the executive director of SLO Food Bank and then goes out on a gleaning run at SLO Creek Farms to pick apples with dozens of volunteer pickers. Glean SLO is a newly coordinated project of the Food Bank to collect commercial and residential leftover crops for distribution through our local food bank. Listen to Decembers's Keeping It Fresh:
Cont...
Download This Episode
---
---
Apples for ALL
September 17, 2011

Apples are fat, sodium, and cholesterol free, high in fiber, and full of flavor. Thanks to STRIDE, Cal Poly student volunteers, and SLO Creek Farms, 2,761 of San Luis Obispo's most delicious and nutritious apples were given to community members in need.

STRIDE hosted nearly 20 incoming Cal Poly freshman at the SLO Creek Farms apple orchard on September 17, with the goal of collecting fruit to benefit The Food Bank Coalition of San Luis Obispo County.

Cont...
---
The Leaflet
Newsletter of the Central Coast Chapter of California Rare Fruit Growers, Inc.
Volume 14 • Issue 1—January-February 2011

EGleaning Possibilities
—by Carolyn Eicher
ver wonder what to do with excess fruit? Do you have more than you and your neighbors and everyone else you know can eat? Or are you a farmer and have excess to share? Well,
we can help out! A group of us from San Luis Obispo County have been picking fresh fruit to donate to the Food Bank Coalition of San Luis Obispo County. Inspired by previous efforts of a non-profit called Backyard Harvest, we are piloting a similar program here in SLO. Gratefully, farmers and home owners have heard about what we are doing and have been donating excess produce to help those in need.
One example is at a 40-acre apple orchard called SLO Creek Farms (www.slocreekfarms. com) owned by the Gable family. Their U-Pick orchard had a bumper crop this year, and they have generously given us access to pick as much as we can for the Food Bank. SLO Creek Farms grows Empire, Early Fuji, Gala, Sundowner, Granny Smith, Braeburn, and more. They welcomed us to eat as many of their pesticide-free apples as we wanted while we were gleaning, a treat they also extend to their U-pick customers.
On a recent November day, a group of 15 of us picked 3,601 pounds of Sundowner apples in under three hours! The Gables asked only that we leave the adjacent rows of Granny Smith apples, which were in high demand. Margaret Lange and Gary Fourer of CRFG were there to help out.
Cont...
---
Nature Academy 2010

Students from the Nature Academy pick apples at SLO Creek Farms U-Pick Apples right off the 101. The apples they picked were collected for the local food bank which feeds people all over the county.

---
Gleaning Apples with GleanSLO

Gleaning apples at SLO Creek Farms
October 2010
---