SLO Creek Farms~Night Halloween Hayride is available next year in 2015!!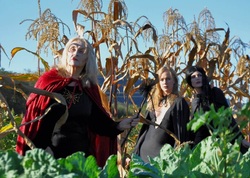 Photo taken by Preston Johnson
Come take a Night Hayride in the middle of an apple orchard where there are REAL spiders, spooky noises that go bump in the night and live animals creeping through the orchard, while stopping to take an orchard walk, hunt by the creek for some candy..if you dare!!!!
SLO Creek Farms~Night Halloween Hayride in the Orchard is from 6:00pm to 7:30pm
Friday, October, 2015.
$5 per person
Rediscover the thrills from a good old fashion Halloween Hayride! This is kid and family friendly.
We will also be roasting smores by the bond fire in the garden.
Located in SLO Creek Farms Garden U-Pick Area
6455 Monte Rd
SLO,Ca,93401
(702)245-3135
www.slocreekfarms.com
---