Orchard Retreat~Yoga,Hiking,Camping & Raw Food Adventures
TBA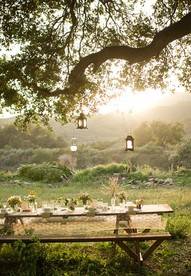 Orchard Retreat~Yoga,Hiking,Camping & Raw Food Adventures

Orchard Retreat~Yoga, Hiking, Camping & Raw Food Adventures
2015

Yoga, Hiking, Camping in San Luis Obispo, Ca located on SLO Creek Farms 44 acre organic apple orchard

Need some adventure and TLC in your life? This weekend is perfect to help you recharge and renew. Join me on an extended Yoga & Hiking Adventure at SLO Creek Farms!!! We'll have time to hike the Shell Beach Trail, Campfires, Night Hayride, Stargazing, Flying Yoga, Tai Massage, walk the Bob Jones Trail to Avila Beach, dance to live music and practice yoga with specially designed classes and workshops to help you have fun, and decompress from your busy life. You'll also have time to relax, reflect and eat yummy homemade raw food meals while enjoying the company of new and old friends.

Yoga Instructors:
Ashley Gable

Questions? Call: (858)249-9979

Early bird special: pay in full ($350) before June 22, 2014. After June 22, 2014 pay regular price $400.
Pay online for convenience with 2.75% Processing Fee or send a check for $400 payable to:
SLO Creek Farms
6455 Monte Rd
SLO,Ca,93401

Orchard Retreat~Yoga,Hiking,Camping & Raw Food Adventures
Pay in full before June 22, 2014 and save $50.00. After June 22, 2014 it is $400. Add Credit Card 2.75% Processing Fee

---
Sample Itinerary

You are welcome to arrive anytime after 3pm on Friday.
Day 1. Friday 5-7 pm. Arrive at camp, set up, enjoy tea, a healthy dessert and maybe wonder to the creek and relax in the hammocks. At 7pm we'll have introductions, candle lit opening ceremonies and a guided yoga relaxation. Winding the night down with a night tractor hayride through the orchard along with stargazing. Then we will venture over to the Avila Hot Springs for a night time soak and some deep relaxation on our muscles, followed by a hot shower.

Day 2. Saturday. Wake up and go for a morning forage walk through the orchard, practice a morning yoga session followed by a gourmet raw breakfast. We will teach you how to make an herbal tea from the gathered herbs along with the Liquid Sunlight Tonic Cleansing Drink. Then we'll hike the Ontario Ridge Trail overlooking the beautiful ocean and venture down to Pirates Cove Beach if you dare. We'll come back to camp for lunch and have some free time to walk around and explore the orchard, journal and relax. From 5:00-7:00pm we'll have a flying yoga session followed by tai massage. Dinner will be followed by a salsa dance lesson, campfire chat on Stress Reduction and live music. Then we will go for another mineral soak at Avila Hot Springs & hot shower. Fall asleep under the stars.

Day 3. Sunday. Wake up and practice an early yoga session followed by a hearty gourmet breakfast. We will have an herbal tincture class that will teach you how to make an immune building tincture that you can take home with you. Walk the Bob Jones Trail to Avila Beach. Lunch. Plant an organic seed in the Permaculture garden. Pick sunflowers and herbs to take home with you. Break camp. Closing circle. The retreat ends after lunch on Sunday, but you are welcome to stay on the grounds until 5pm and participate in an optional Flying Yoga class.

Day 1
Pre Retreat Option: 4-6:30pm Visit Avila Beach Farmers Market for some Dinner

5:00pm-7:00pm Arrive at the orchard, set up camp and enjoy some tea and a healthy gourmet dessert.
Hammock time in secret spot by the creek, lit with twinkle lights.
7:00pm Introductions
7:30pm-8:30pm Candle Light Yoga and Guided Relaxation Taught by Billy Hoveke
8:30pm-9:00pm Night Tractor Hayride in the orchard followed by Stargazing
9:30pm-11:00pm Free Time~ Recommended Avila Hot Springs Soak & Hot Shower


Day 2
7:30am-8:00am Morning herbal forage walk through the orchard followed by Deep Relaxation
8:00am-9:00am Yoga Deep Relaxation lead by Ashley Gable
9:00am Breakfast and learn to make herbal tea/Liquid Sunlight Tonic from forage walk
10:00am Hike Ontario Ridge Trail/Pirates Cove
12:00pm Lunch: Pick your own salad from the SLO Creek Farms Organic Garden & veggie wraps
1:00pm-5:00pm Free Time to explore the Avila Beach/San Luis Area. Enjoy GreenLove Snacks (if at camp or take with you)
5:00pm-7:00pm Flying Yoga followed by Tai Massage, Taught by Billy Hoveke & Paolo Martinez
7:00pm Dinner in the Orchard
8:00pm-8:30pm Learn to Salsa~Ballroom Dance Class in the Orchard Taught by Ashley Gable
8:30pm-9:30pm Campfire Chat on Stress Reduction & Live Music
9:30pm-11:00pm Free Time~Recommended Avila Hot Springs Soak & Hot Shower

Day 3: Tentative
7:30am Herbal Tea at the Creek
8:00-9:00am Yoga Lead by Paolo Martinez
9:00am Breakfast in the Orchard
9:30am-10am Learn to make an immune builder herbal tincture class, Taught by Herbalist Robyn Gable
10:00-12pm Free Time~Walk Bob Jones Trail visit Avila Beach & Mid Morning Snack
12:00pm Lunch in the Orchard
1:00pm Plant an organic seed or plant in the Permaculture Garden. Pick sunflowers & herbs to take home with you.
1:15pm Break Camp & Closing Circle Lead by Billy Hoveke & Paolo Martinez
3:00-5:30pm Option to stay/Hang out/Free time play. Flying/Massage/Q&A. Led by Paolo Martinez and Billy Hoveke

Recommended places to visit during free time:
Friday Night Avila Farmers Market 4-7pm
Avila Valley Barn- Veggies, Snacks & Petting Zoo
Kelsey Winery- Wine Tasting
Harmony House Yoga- Beautiful yoga studio in Pismo Beach
Avila Beach-Sunsets
Pismo Beach- Surfing
Bliss Cafe: Vegan Food, Juices & Smoothies
Big Sky: Healthy Food
---
Cost:
*Registration: A non refundable deposit of $150.00 is due to hold your space.

Early bird special save $50
*Register by June 22, 2014 for Early Bird Price $350. *Purchase in full by July 15, 2014.

Regular pricing:
*$400 if register after June 22, 2014. *Purchase in full by July 15, 2014

Includes: 3 day/2 night camping, 5 raw gourmet meals, 2 desserts, 3 GreenLove Superfood Snacks, Super Herb Teas, Tonics and Elixir Drinks, 1 coupon for a FREE GreenLove Superfood Smoothie at Friday Avila Farmers Market, 3 yoga sessions, 1 Flying Yoga Session followed by Tai Massage, 1 Ballroom Dance Group Class, 1 Herbal Tincture Class with herbal tincture to take home, 2 Mineral Springs Soaks, a guided tour through the permaculture garden, a foraging walk to collect and make an herb tea, learn to make Liquid Sunlight Tonic, a guided Bob Jones Trail Walk to Avila Beach, a guided hike on Ontario Ridge Trail to Avila Beach, 1 night tractor hayride with star gazing and an evening campfire with live music.

Does not include:Travel expenses to retreat and home from retreat.

Save your spot: Space is limited to 20 people! Register by June 22, 2014 to save $50.
Registration ends: June 15, 2014
---
Sample Raw Food Menu:
Sample Raw Food Menu:
*Note that all meals served will be raw and organic by GreenLove Raw Foods
All meals prepared with love by Gourmet Raw Food Chef: Taysia Gable
Note: You may bring your own food if you would like to BBQ and are not vegetarian. We will have a BBQ available for use.
*More traditional meals are available upon request.

Please let me know upon registration if you have any dietary restrictions. They can be accommodated if given advance notice. Please note, this may be more difficult if you register late.

Everything was raw, organic & homemade!

Breakfast:

GreenLove Superfood Smoothie Bowl topped with GreenLove Raw, Gluten Free Granola & Superfruit

GreenLove Homemade Raw Granola with Superfood Cashew Miyk

GreenLove Superfood Smoothie

Fresh Organic Fruit

Lemon Water, Herbal Tea, Chagakon & Elixir Shots

Lunch:

Homemade Veggie Wraps

Pick your own salad from SLO Creek Farms Organic Garden

Cheesy Kale Chips

GreenLove Kefir Tonic Drinks

GreenLove Kombucha and Jun Elixir Drinks

Snacks:

Organic Fruit

GreenLove Superberry Trail Mix

GreenLove Savory Seeds

GreenLove Kale Chips

GreenLove Superfood Smoothie

GreenLove Blue Lagoon Tonic Drink

GreenLove Liquid Sunlight Tonic Drink

GreenLove Super Herb Teas

Dinner:
*Ingredients picked fresh out of the SLO Creek Farms Garden

Raw Zucchini pasta picked from the garden

Homemade sauce

Garden vegetables

Salad

GreenLove Elixir Tonic Drinks

Dessert:

GreenLove Raw Cacao Superfood Chocolates

GreenLove Raw, Dairy Free Ice Cream

GreenLove Cacao Mylkshake

---
Description of Rooming:
Camping - Bring a tent, warm blankets and everything you need. Beautiful camping site located on a 44 acre organic apple orchard.

---
What to Bring?
What to Bring?
SLO Creek Farms is somewhat remote, so bring all you need for a 3-day excursion.

1. Towel
2. Slippers
3. Bathrobe
4. Clothes for yoga
5. Hiking shoes if you like
6. Warm clothes for morning meditation
7. Flashlight
8. Water bottle
9. Small towel for yoga
10. Yoga mat and a yoga blanket if you own one. We have mats if you don't own one.
11. Alarm clock
12. Sun screen and sun hat
13. Swim suit for mineral springs
14. Tent and camping gear
15. Sleeping Bag


---
Shell Beach Bluff Trail & Ontario Ridge Trail Hike
Two parallel but varied trails explore the coast between Shell Beach and Avila Beach in San Luis Obispo County. Shell Beach Bluff Trail is an easy, wheelchair-friendly paved trail overlooking a picturesque cove. Ontario Ridge Trail is a rugged, sometimes-steep track crossing a 700-foot hill above the bluff. Put these two together for a 2.8-mile loop with 675 feet of elevation gain, and spectacular ocean views.

---
Avila Beach is a small beach area that is so beautiful and peaceful. This is a great spot to have a snack and relax.
Have some fun times in the sun. Get ready for a new adventure!!!

---
Avila Hot Springs~Mineral Soak

"Our old-fashioned 20' x 20' therapeutic hot mineral soaking pool is approximately 2 ft. deep and 104 degrees and draws it's constant flow up from the natural artesian well beneath Avila Hot Springs.

Avila Hot Springs' source of mineral water is a geothermal spring emanating from deep within the earth's mantle, brought to the surface by our artesian well, which allows the precious water to flow up to us without pumping at about 130-135 degrees, where it is cooled with a little fresh water to about 104 degrees in our hot pool. The flow of our spring has remained constant for over 100 years.

According to his book "Pure Water" by Dr. Casey Adams, ( D.O., p.h.D) , thermal mineral springs pools have been used therapeutically for thousands of years and are mentioned as useful for healing many ailments in his "Use of Liquids" treatise by Hippocrates. These local waters were revered by the local Salinan Indians who bathed in them for relief from injuries and ailments."

Read more at the link below

http://www.avilahotsprings.com/
---
See you soon for a fun filled weekend of yoga, hiking, camping and raw food adventures!!!

---