Delicious Apple Recipes
"Whatever you make, you can make it better with apples"
---
Apple Sauce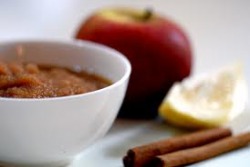 Apple Sauce (uncooked)
4 Apples
1/4 tsp. Cinnamon, ground
1 tsp. Lemon Juice
1/8 tsp. or less Stevia Extract, white powder (optional for sweetening)

Wash and clean any variety of apples you like for this recipe. Each variety has its own flavor and degree of sweetness or tartness. The skins can even be left on for color.

It is best to prepare the apple sauce shortly before you intend to eat it, as the color becomes somewhat brownish if stored in the refrigerator for a day or two.

Slice the apples into quarters and remove the core. Place the apple quarters in the container of a blender. Add the lemon juice to help preserve the color. Add the cinnamon. Cover the blender container, and run it at medium speed until the apple sauce reaches the desired consistency.

Taste the apple sauce for flavor. Add additional cinnamon, if desired, and some Stevia if you desire a sweeter apple sauce.


---
---
Apple Cider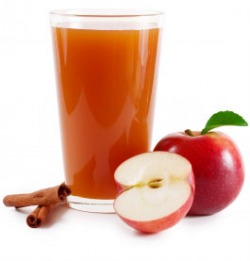 Hot Spiced Apple Cider
1/2 gal. Apple Cider
1/2 tsp. Cinnamon, ground
1/2 tsp. Allspice, ground
1/4 tsp. Cloves, ground

We prefer to make this beverage in a slow cooker or crock pot, set on "warm".

Preheat the Apple Juice or Cider in a pot on the stove top or in a microwave oven in an appropriate container. We use a 2-cup "Pyrex" measuring cup and heat on "high" in the microwave oven for 4 minutes, adding the contents to the preheated crock pot, and repeating this procedure until all the juice is heated.

Add the Cinnamon, Allspice and Cloves to the first batch of warmed Apple Juice or Cider in the crock pot and let simmer for about 1/2 hour.

We set the cups out beside the crock pot, and allow people to serve themselves with a ladle.

Enjoy!


---
---
Apple Wine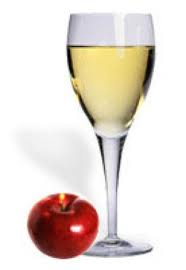 "Next to grapes, apples are nearly perfect for wine-making"

Makes one gallon of apple wine

14-16 lb. Apples or 1 gallon cider
1 lb. Sugar
1.5 tsp Acid Blend
.5 tsp Pectic Enzyme
.25 tsp Wine Tannin
1 tsp Yeast Nutrient
1 Campden tablet, crushed
1 pkg Champagne yeast (or wine yeast of your choice)
1 tsp Ascorbic Acid

When you have your juice:

1. Add sugar, acid blend, pectic enzyme, wine tannin, yeast nutrient, and crushed Campden tablet. Cover the primary.

2. After 24-48 hours, add yeast. Again, cover primary.

3. Stir daily and check the specific gravity with a hydrometer. When the specific gravity is at 1.040, rack the apple wine off the sediment into a secondary. Attach stopper and airlock.

4. Wait about 3 weeks for fermentation to complete. Siphon again into a new cleaned and sanitized secondary fermenter. Again, attach airlock.

5. Siphon off sediment again in 2 months and again if necessary until wine clears. Add 1 tsp ascorbic acid (an anti-oxidant that will prevent browning) at bottling.

6. Apple wine is typically bottled in wine bottles and corked.



---
---
Hard Cider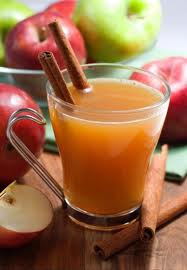 Makes 1 gallon
14-16 lb. apples or 1 gallon apple juice (unpreserved*)
1/3 lb. Sugar
1/2 tsp. Pectic Enzyme
1/2 tsp Yeast Energizer
1 Campden Tablet
1 pkg Champagne Yeast (or other wine or ale yeast of your choice)

Procedure:
If you are starting with apples, be sure to pick ripe apples without worm damage and rotting. Wash the apples and cut them into smaller pieces for easier pressing.

If you are starting with apple juice, be sure it is unpreserved! One way to know if it has preservatives is to look in the ingredients for "potassium sorbate" or "sodium benzoate". The juice will be unfermentable with either of these ingredients present. Pasteurized juice is ok, while fresh pressed, unpreserved apple juice is best.

1. Collect the juice in your primary fermenter and add a crushed Campden tablet (per gallon), along with the pectic enzyme. Stir in added sugar and yeast energizer (yeast nutrient will also work). Be sure to keep out the yeast. The Campden tablet will knock out the yeast and prevent fermentation. Cover the primary fermenter.

2. Wait 24-48 hours and add yeast. Cover the primary with the lid and airlock.

3. Stir the cider daily with a sanitized spoon or gently swirl primary fermenter. After 7-10 days (or until active fermentation subsides) siphon the cider into a secondary fermenter. Attach airlock.

4. Allow fermentation to finish out in the secondary, and let the hard cider rest until the cider clears. Clarifiers such as Sparkalloid or LQ Super-Kleer may be added at this time to help clarify the cider.

5. If you want carbonated hard cider, add about 1 oz. per gallon of priming sugar (corn sugar or dextrose) or an appropriate amount of another fermentable sugar source.

-or-

If you want still, uncarbonated cider, add potassium sorbate at bottling time to prevent re-fermentation. Bottle preserved cider.

6. Cider is typically bottled in standard beer bottles and capped. Wait 2 weeks for carbonation to develop and drink up! Cider will get better after a month or more in the bottle.
---
---
Apple Coffee Cake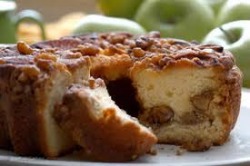 Makes 1 bundt cake.

FOR THE ICING

¾ cup powdered sugar
1 tablespoon whole milk

In a bowl, combine the powdered sugar and whole milk. Mix well. Set aside.


FOR THE CAKE

About 5 apples
3 teaspoons cinnamon
1/3 cup sugar (1st amount)
4 ½ cups flour
4 teaspoons baking powder
3 cups sugar ( 2nd amount)
1 teaspoon salt
6 large eggs
1 ½ cups good apple sauce (a healthy, veg. oil substitute)
1/3 cup frozen orange juice concentrate, undiluted


Preheat oven to 325 degrees F. Prepare apples first: wash, pare, core and dice. Measure 4 cups. To them add cinnamon and 1/3 cup sugar. Mix well and set aside while you make the batter.


In a large bowl, mix the flour, baking powder, remaining sugar and salt. Add eggs, apple sauce and orange juice concentrate. Beat until smooth and blended.


Grease a 10 inch tube pan. Spoon 1/3 of the batter into the pan. Thoroughly drain any juice from the apples. Spoon 1/2 of the apples over the batter. Top with another 1/3 of the batter, then the remaining apples. Top with the remaining cake batter. Sprinkle lightly with cinnamon and sugar. Bake for 1½ hours. Be sure not to under bake.

Let cool (about 10 min.) Drizzle icing over warm cake. Serve warm.


---
---
Apple Pie Bars
4 cups all-purpose flour
1 teaspoon salt
1 teaspoon baking powder
1 cup shortening
4 egg yolks
2 tablespoons lemon juice
8 to 10 tablespoons cold water

FILLING:

7 cups finely chopped peeled apples
2 cups sugar
1/4 cup all-purpose flour
2 teaspoons ground cinnamon
Dash ground nutmeg

GLAZE:

1 cup confectioners' sugar
1 tablespoon milk
1 tablespoon lemon juice

In a large bowl, combine flour, salt and baking powder. Cut in shortening until mixture resembles coarse crumbs. In a small bowl, whisk egg yolks, lemon juice and water; gradually add to flour mixture, tossing with a fork until dough forms a ball. Divide in half. Chill for 30 minutes.

Roll out one portion of dough between two large sheets of waxed paper into a 17-in. x 12-in. rectangle. Transfer to an ungreased 15-in. x 10-in. x 1-in. baking pan. Press pastry onto the bottom and up the sides of pan; trim pastry even with top edge.

In a large bowl, toss the apples, sugar, flour, cinnamon and nutmeg; spread over crust. Roll out remaining pastry to fit top of pan; place over filling. Trim edges; brush edges between pastry with water or milk; pinch to seal. Cut slits in top.

Bake at 375° for 45-50 minutes or until golden brown. Cool on a wire rack. Combine glaze ingredients until smooth; drizzle over bars before cutting. Yield: about 2 dozen.
---
---
Apple Crisp "Slice of Heaven"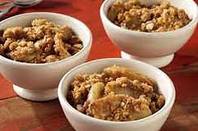 Ingredients
10 cups all-purpose apples, peeled, cored and sliced
1 cup white sugar
1 tablespoon all-purpose flour
1 teaspoon ground cinnamon
1/2 cup water
1 cup quick-cooking oats
1 cup all-purpose flour
1 cup packed brown sugar
1/4 teaspoon baking powder
1/4 teaspoon baking soda
1/2 cup butter, melted
Directions

Preheat oven to 350 degrees F (175 degree C).
Place the sliced apples in a 9x13 inch pan. Mix the white sugar, 1 tablespoon flour and ground cinnamon together, and sprinkle over apples. Pour water evenly over all.
Combine the oats, 1 cup flour, brown sugar, baking powder, baking soda and melted butter together. Crumble evenly over the apple mixture.
Bake at 350 degrees F (175 degrees C) for about 45 minutes.
---
---
Crabapple Butter Breakfast Cake by Katie Yeckley
1st Place winner of the SLO Creek Farms Crabapple Baking Contest 2012 is Katie Yeckley. This is her amazing Cake she made. Enjoy!
Crabapple Butter Breakfast Cake
Ingredients:
2 cups of crab apple butter

2 1/4 cups bisquick

3/4 cup milk

1/2 cup sugar

1 large egg

1 tablespoon vanilla extract

1 tablespoon cinnamon

3 tablespoons butter, melted

1/3 cups pecans, finely chopped

1/3 cup brown sugar

2 tablespoons butter, melted

Directions:
In a bowl, stir together baking mix, milk, sugar, egg, vanilla, cinnamon, and 3 tablespoons melted butter. Pour 2/3 of the batter into an 8x8-inch baking dish coated with non-stick cooking spray. Cover with crab apple butter. Drop remaining batter by spoonfuls on cake.
Combine last three ingredients and sprinkle on top. Bake at 350 degrees F for 1 hour until cake tester inserted in center of cake comes out clean.
---
Apple, Carrot, and Celery Juice Recipe
A family favorite!

Ingredients
1 apple
1 carrot
1 stalk of celery
How to make
Wash the apple and the vegetables.
Core the apple
Cut to fit your juicer.
Juice and serve
---