Now accepting Vendors for the 4th Annual Apple Blossom Festival 2014
We are now accepting vendors for the Apple Blossom Festival April 12, 2014. If interested please fill out the contact form below. 10x10 booths are $25. 10x20 are $35. Application and fee deadline is March 30, 2014. Estimated attendance between 300-500.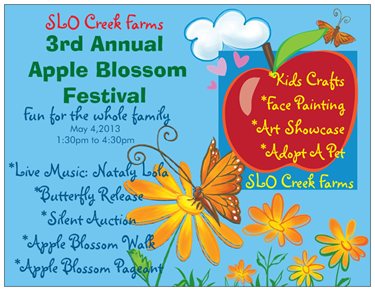 ---
Frequently Asked Questions:
DEADLINE TO SIGN UP AS VENDOR:
Deadline to sign up as a vendor is March 30, 2014 or until all the spaces are filled.

DEMOGRAPHICS:
The SLO Creek Farms Apple Blossom Festival was held in the city of San Luis Obispo for 4 years located at SLO Creek Farms Orchard. Fun for family and friends or the community.

VENDORS:
Vendors that are welcome to the festival: Artists, Paintings, Massage, Hard Cider, Wine Vendors etc. All vendors are subject to approval by the Apple Blossom Festival Executive Committee.

FOOD VENDORS are by invitation - if you are interested in becoming a Food Vendor, please Email us at SLOCreekFarms@live.com for food inquiry. No phone calls accepted. If you are a new food vendor to the festival please list the type of foods you are interested in providing as well as other festivals you have participated in.*Note: Food vendors are subject to approval by the Apple Blossom Festival Southern California Executive Committee.
There is no electricity due to festival location outdoors, so you will need to bring your own silent generator or power source.

VENDOR Packet:
Vendor's who have signed up will received a Vendors Packet via email which contains all the Set up/Tear down, Rules and Regulars, Checking in procedure, Security, and Informational Handbook, which should answer all questions you may have on who, what, why, and where of your role in the Festival. The Vendors Packet will also contain names and contact information if you have any questions or issues. Once you have signed up and been accepted, you'll receive the Vendor Packet by April 10, 2014.

This is a non-profit event sponsored by the Food Bank/GleanSLO, bringing the San Luis Obispo Community together to celebrate spring and the beautiful blooming apple blossoms.

COMMUNICATION:
Since the entire Festival Production Team are all volunteers – the fastest means of communication is via email Slocreekfarms@live.com

Happy spring everybody!
---
---