SLO Creek Farms U-Pick Organic Apples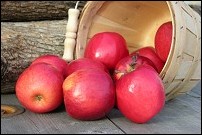 Start a family tradition by visiting SLO Creek Farms in beautiful San Luis Obispo, CA. We invite you and your family to come wander our orchard as you search for the best apples.

Grab one of our apple baskets to fill with the apples you choose straight from the tree. Make sure you taste the apples and eat as many as you can along the way. It's free to pick, just purchase the apples you take home with you.



---
40 Acres of Organic Apple Trees Available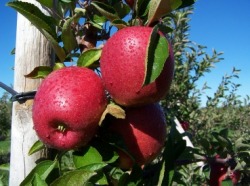 With 40 acres of organic apple trees, there are plenty to go around. Go ahead and bring your friends and family and make picking apples a fun family event.

---
Our Apples are Organic!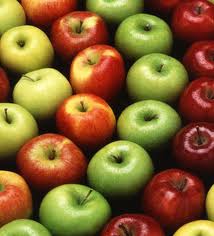 We grow many different varieties. They are all organic, so you can taste them right from the tree without any harsh chemicals going into your system. We have the following apples: Jonalicious, Empire, Early Fuji, Gala, September Wonders, Sundancers, Granny Smith, and Braeburn. More details about each variety are listed on the apple schedule page.
---
All Ages Welcome!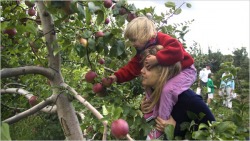 ---
Tips for U-Pickers

Call ahead to check availability of apples, picking conditions, and times
Park at our customer parking area
There is a free picnic area
We have baskets for you to carry the apples you pick
Stay within areas described by employees, other sections are for farm use
You can bring your own containers to transfer apples into after picking

Wear appropriate clothes and hats for the weather
Bring sunscreen and water, especially if it is a hot day
Please no climbing on any apple trees
Children are welcome, but please plan to supervise anyone under 10 years of age
Pick at your own risk. We are not responsible for any injuries.
Please clean up after any pets you choose to bring along for the adventure
---