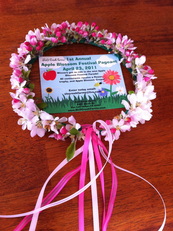 Saturday, April 13,2013
1:30pm to 4:30pm
Held at:
SLO Creek Farms Garden Area
6455 Monte Rd,SLO, CA, 93401
(702)245-3135
Pageant Age Categories:
*Ms. Apple Blossom 21-up
*Queen Apple Blossom 13-20
*Princess Apple Blossom 4-12
*Little Apple Blossom newborn-3
*Mr. Apple Bud 21-up
*King Apple Bud 13-21
*Prince Apple Bud 4-12
*Little Apple Bud newborn-3
Attire: An apple themed outfit or anything cute and red or even school spring outfit. Ladies can be dressed in cute apple country attire. Please no pageant dresses. Be creative. Have fun! Guys can be apple farmers or something creative.
Contestants must be able to walk gracefully with an apple on their head. Must tell what their favorite type of apple is and/or what their favorite food made with apples is.
Judged on apple skills and cutest apple outfit.Natural looking girls only. No makeup on girls 8 and under. Girls 9 and up may have light make-up.
Contestants are awesome, so everybody gets a apple blossom crown!
Entry Fee: $25 includes prizes.
All contestants win an apple blossom crown made from real apple blossoms. 1st place winners receive an apple blossom crown, apple blossom trophy, a sash, and a coupon for 10 free pounds of apples. All contestants will be apart the 2nd Annual Apple Blossom Festival 2012 Mini Parade Hayride.
*Note: Of course boys will get a more masculine crown.
Submit your entry and pay to reserve your spot into the pageant. Please fill free to ask any questions you may have as well.
Deadline is April 1, 2013.
Please fill out the form below and then pay at this link to enter :
www.slocreekfarms.com/store.html
Good luck everybody!