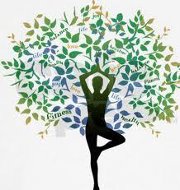 Yoga in the Orchard 2012


Come and relax the mind and strengthen the body with yoga in the apple orchard.


*April 7, 2012 though October 27, 2012

Taught by the amazing and beautiful Kendra Glazebrook! You will love her!!!!
Class is every Saturday from 9:00am to 10:00am
All Levels and walk-ins are welcome!
Suggested to bring your mat, towel, water bottle, and happy smiling face:D
Class is $8 per person
Mat rental is $2
Hot tea and bottled water is available for purchase
*First class, April 7, 2012 bring a friend, get in "FREE"!
Located at SLO Creek Farmers Garden U-Pick Area, on the grassy area.
www.slocreekfarms.com
(702)808-7126