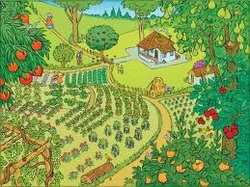 Plant a seed, grow a garden!
Have you always wanted to plant your very own organic garden but never had the room? Well now here is your chance.

SLO Creek Farms is offing 10ft x 10ft garden spaces for rent for $25. Yours from April 1, 2012 through November 30, 2012.

If this is something you have always dreamed of, sign up today. Only so many spaces available.


Rules:
1) You must plant, water and take care of your garden and make it beautiful. If you do not maintain your garden you may loose your spot.
2) You may take all the produce grown from your garden home.
3) Organic only! No chemicals or pesticides allowed. OMRI approved products only.
4) If you have excess, you may donate to the Food Bank if you would like.
5) You may visit your garden anytime.
6) No picking from other community garden renters unless they say its ok. Trading is fine, as long as other party is ok with it.
7) Grow any vegetable or flowers you would like.
8) Have fun!

Any Questions you can email: slocreekfarms@live.com

Happy gardening everybody!